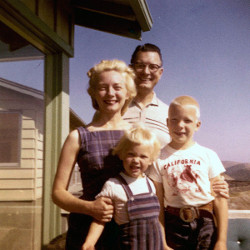 Fashion in the 1950s
Social and economic changes after the end of the Second World War were also reflected in the 1950s style of clothing. Shortly after the end of the war, the Parisian designers resumed their traditional role in the fashion world but the mid-20th century fashion was also influenced greatly by television, cinema and magazines. For the first time in history, teenagers developed their own style of clothing which was strikingly different from clothing style of their parents.
Women's Fashion
The 1950s saw popularisation of the so-called New Look style that was developed by Christian Dior in the second half of the 1940s. The style which introduced rounded shoulder line, small waist, pointed bust and full skirt below the mid-calf length replaced padded shoulder by the early 1950s and was hugely popular throughout the decade.
In addition to the New Look, women in the 1950s also adopted closely fitted jackets featuring peplums which were worn with narrow pencil skirts. Also popular were shirt-dresses which like their name suggests had a shirt-like bodice. Just like in the 1930s and 1940s, a feminine look was preferred although many women also began wearing trousers, especially for informal events. Pants in the 1950s were tightly fitting and of ankle-length.
Hair in the 1950s was worn short and curled, or long and strait. Ponytails became popular among teenage girls and were worn either long or short.
The favoured accessories included gloves and jewellery.
Men's Fashion
The early 1950s men's fashion was dominated by the New Edwardian Look which was inspired by the 1930s drape suits. The style was especially popular among Teddy Boys who wore drape suits which resembled greatly to the 1940s zoot suits, narrow tie and narrow pants revealing bright socks. By the end of the decade, however, a new style known as Continental suit became popular. It was made from lighter fabrics and featured narrower and shorter jackets with pronounced shoulders.
Preferred informal attire included sport suits with tartan plaids, khaki pants, Bermuda shorts and various sweaters and knit shirts. Many young men wore jeans or tight pants, white tee shirts and leather jackets. Both young and middle aged men preferred the wet look hair, while the period also saw popularisation of pompadours.
Fabrics
Textile industry introduced a variety of new, easy to care fabrics and finishes which had a major influence on clothing preferences of both men and women. Examples include polyester, acrylic and spandex.